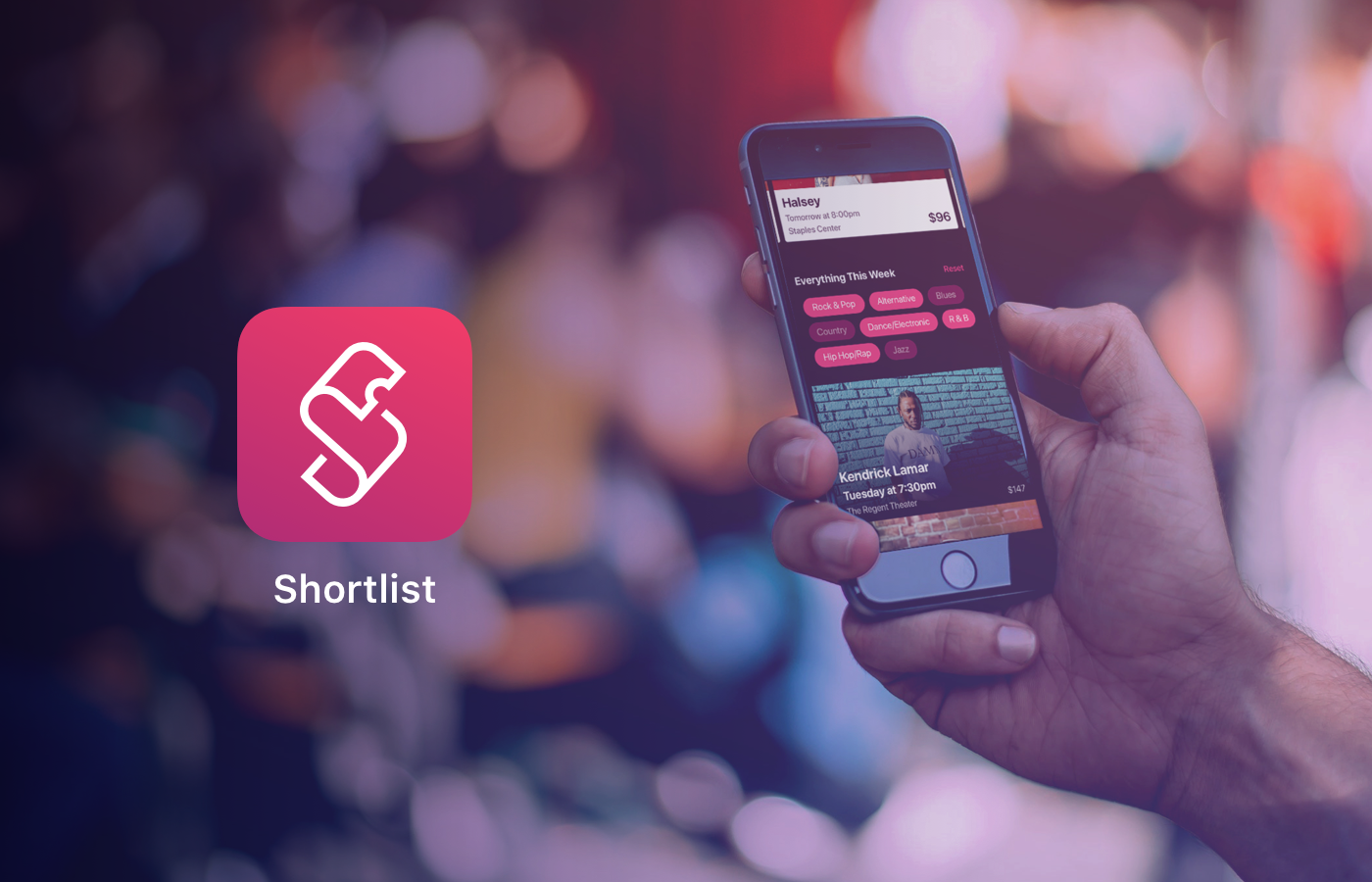 UX and UI redesign for Ticketmaster Mobile Studio
Shortlist is a mobile app by Ticketmaster that uses a custom ranking algorithm to show users the best concerts happening in a given city within the next week. The goal is to offer value to users looking for last-minute shows to go to, by creating an ultra-simple, habitual mobile experience. 
• Audit the current user experience through a user testing campaign
• Do a lean redesign of the Shortlist app (what are the simplest things to change that will offer the most improvement to the UX)
Before beginning work on a redesign, I conducted some remote user testing sessions with a small focus group to identify key problems. Observing users opening Shortlist and getting started revealed these issues:
Before surfacing any concerts, the discovery experience required users to...
 • manually select a city
 • manually select one or multiple genres
 • start a search for shows by tapping the magnifying glass
This was annoying and required work from the user before they could receive any value.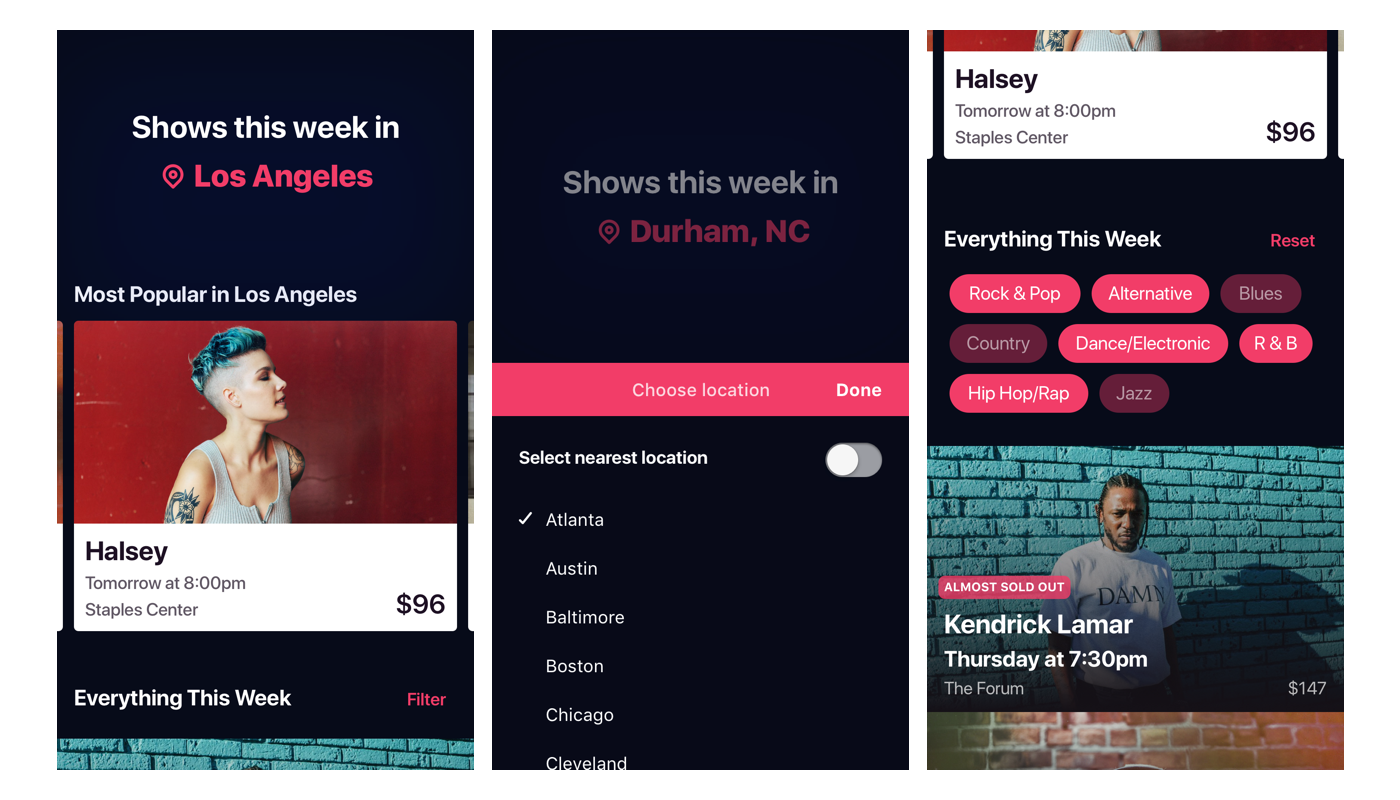 I redesigned the discovery experience to feature shows from a default, or last-set city without requiring any work. Users could still change their location by tapping the city, and could still filter music genres by expanding a cluster of toggle selectors. But once these were set, users could return to the app and immediately see upcoming shows without needing to select or initialize anything manually.
Additionally, organizing concerts into a "Most Popular" carousel and overflowing into a scrolling list provided an engaging way for users to navigate through concerts, and also replaced the previous browsing experience described below.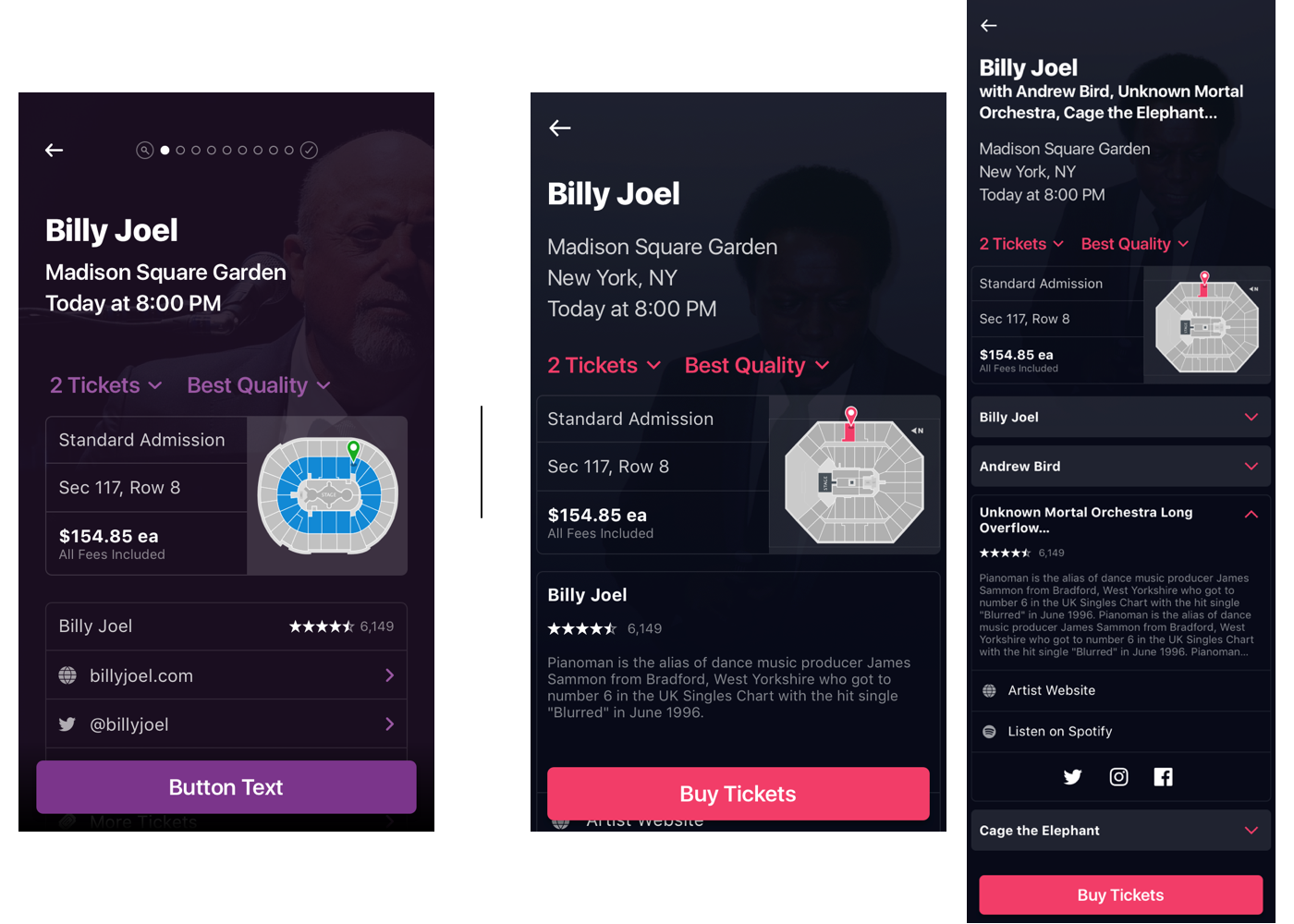 The original event detail screen required users to page left-to-right to view the shows returned by their search. Remote user testing sessions revealed serious problems with this design:
 • A collection of more than 4-5 shows could be disorienting and frustrating to navigate
 • Some users never realized they could page left-to-right, and believed the app was only showing them a single concert at any given time.
 • Concerts featuring multiple artists would still feature only the headliner, with no information about supporting artists
Changes made when redesigning the event detail screen:
 • Margins were expanded to make more room for relatively cramped information
 • Typography treatment was changed to improve readability and information hierarchy
 • Basic changes were made to feature information for multiple performing artists
Color changes
Additionally, I learned that the existing purple colorway created significant legibility issues in some conditions. Text contrast was poor in bright light, and appeared dark and mottled when a lot of text was visible on the page at once. A higher-contrast, higher-energy color scheme was adopted to fix this, and create a more energetic visual presence.